Perhaps some of you have wondered what ever happened to the "My Favorite Room" series. Well, we have a special guest today and she comes all the way from Canada. Rosa from the blog Flutter Flutter is such a sweet blogger, as well as talented photographer & graphic artist. You are in for a treat because she is going to share a special spot in her home. Welcome Rosa!
Hi there! I'm Rosa, from
FlutterFlutter
. I'm thrilled that Rene asked me to share my favorite room with you! I'm kind of cheating though, because my favorite room is actually three rooms in one! Our kitchen, eating area, and family room are all open to each other in one long space, so I'm going to show you bits of all of them! ;)
Slipcovers are my friend. Rene, this couch will probably look familiar to you! I'm also currently loving faux fur, wool, and anything nature inspired.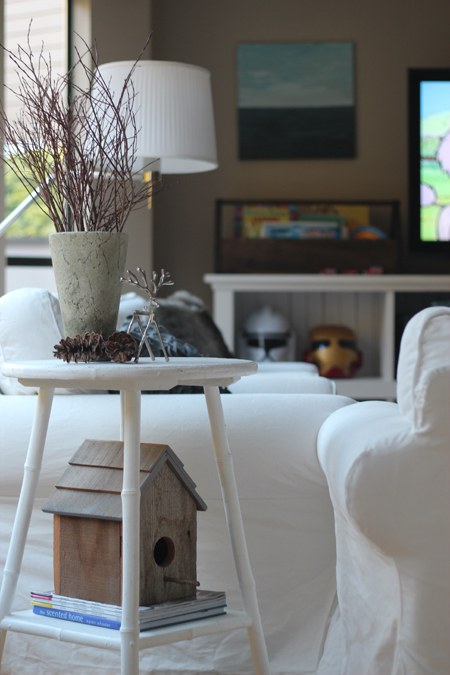 I recently DIY'd this
coffee table
for the family room... and it's a huge hit with the kids because it doubles as a moving stage!
These little chairs help to delineate the eating area from the family room, and make great extra seating at the kids table when friends are over. My grandad made them when I was little and so it makes me happy to see them still being loved.
Thank you so much for having me over today Rene! I hope you all liked the tour!
*****
Yes, I do recognize the sofa - slipcovers are a mom's best friend. And, I have always loved those chairs marching in a row behind it - such a nice reminder of your grandfather. All the nods to family make your home so welcome and inviting. Thanks so much for sharing your favorite room with us today!